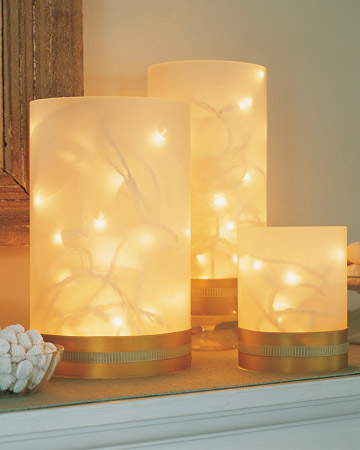 DIY Christmas Decor – Luminaries are created using frosted cylinder vases and white twinkle lights.
Loosely coil a single strand of clear mini-lights on a white cord in each vase. Run the plug end over the back edge of the vase and behind it so the cord is out of view.  Of course, always use lights that have been safety tested (read the label), and always unplug the strand when the display is left unattended.
This idea is great for a stand alone vase, but looks even better when vases of varying sizes are grouped, as shown above.  When combining vases into a group, always use odd numbers for the most powerful visual effect.
You could also use vases of the same height and display them in a row for a different look.
The bottoms of these vases have gold ribbon wrapped around the bottoms and affixed with double-sided tape. A second ribbon (narrow) is the fastened over the first to give more visual interest.
Such an easy DIY Christmas decor idea, but it looks so sophisticated!  Photo Credit: Martha Stewart