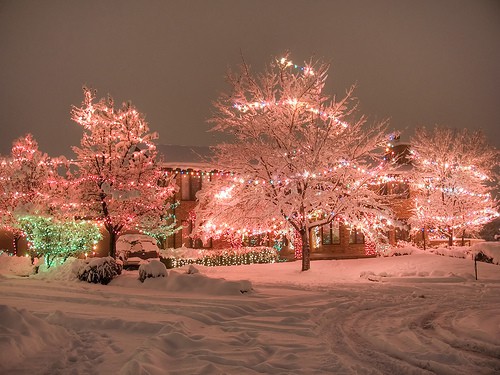 Wow, Wow, WOW!!! Stunning pastel pink Christmas lights decorate a snowy yard full of trees, creating a breathtaking display!  Where on EARTH did they find pastel pink Christmas lights is what I want to know!  I have a thing for pink, and have been searching for lights like these half my adult life! If anyone knows where to find, please leave a comment!
This is sure to be a show stopper. Passersby undoubtedly stop a stare. It is just so darn PRETTY! The pink glow of the lights against the snow is nothing short of magical. I want these lights!!!!
~ About ChristmasDecorated.com: I make my living from home, blogging about something I love (Christmas Decorating!) with this blog. You can do this too. Sign up for a free e-course to learn how to earn a living with your own blog - Go to WorkAtHomeDivas.com.