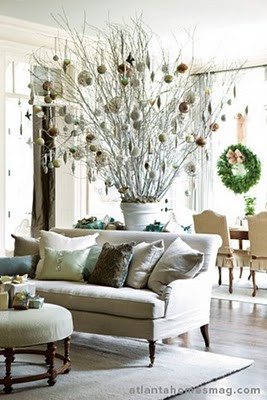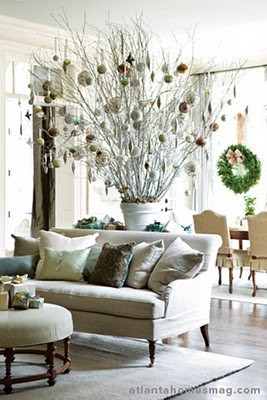 A stunning idea for a Christmas tree alternative: Spray pain tall branches white, insert into a urn or large flower pot (In this case also white) filled with sand. Cover the sand with florist's moss (available in craft stores) and then hang an abundance of beautiful glass Christmas ornaments from the branches.
In the photo featured here, a monochromatic look was created for this display (to complement the color scheme in the rest of the room), by matching the white branches to the white pot, and staying away from colors for the ornaments in favor of silver and antique gold.
A Christmas tree alternative like this is a fabulous option  if you are opting for Christmas trees in multiple rooms of your home and you want to try something a little different from the ordinary in one of the rooms. But,  of course,  there's nothing to say that you can't go this route if its the only Christmas tree in the house – why not dare to be a different this year and show your guests that you're a style leader.
~ About ChristmasDecorated.com: I make my living from home, blogging about something I love (Christmas Decorating!) with this blog. You can do this too. Sign up for a free e-course to learn how to earn a living with your own blog - Go to WorkAtHomeDivas.com.