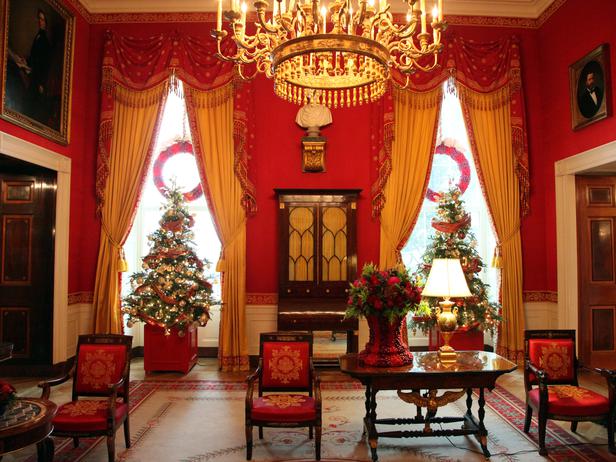 If your invitation to the Obama's Christmas Party got lost in the mail, here's your chance to take a Christmas House tour of  1600 Pennsylvania Avenue – the White House.  Check out the White House decorated for Christmas 2012!  Source:  HGTV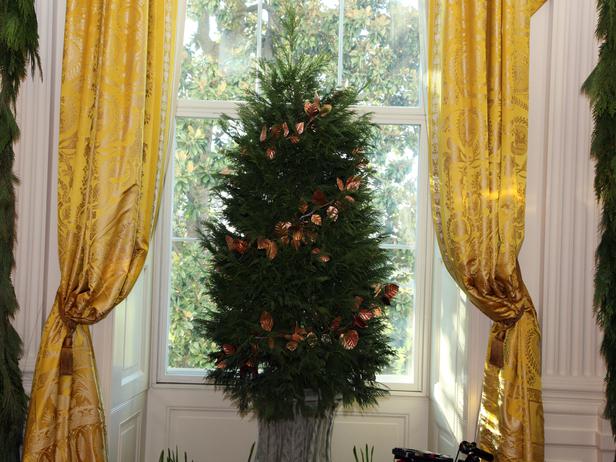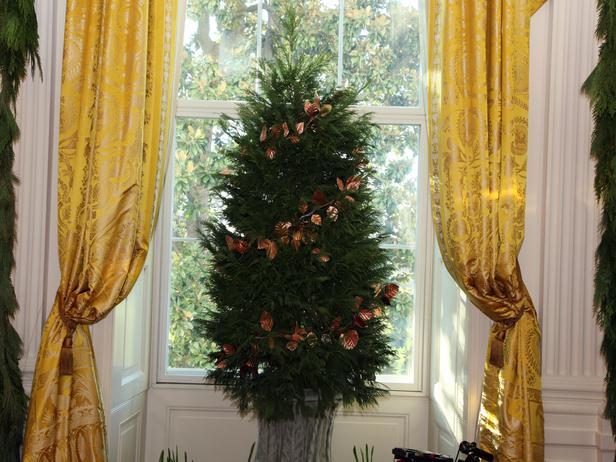 A table top Christmas tree sits in front of a window in a room at the White House for Christmas 2012 to be enjoyed by President Obama and his family. Its lovely to see the White House decorated for Christmas.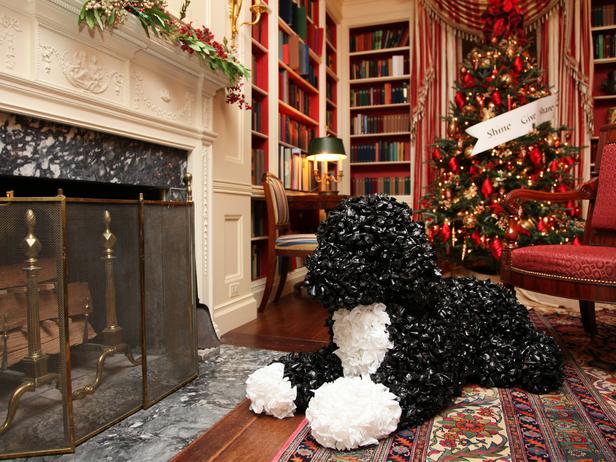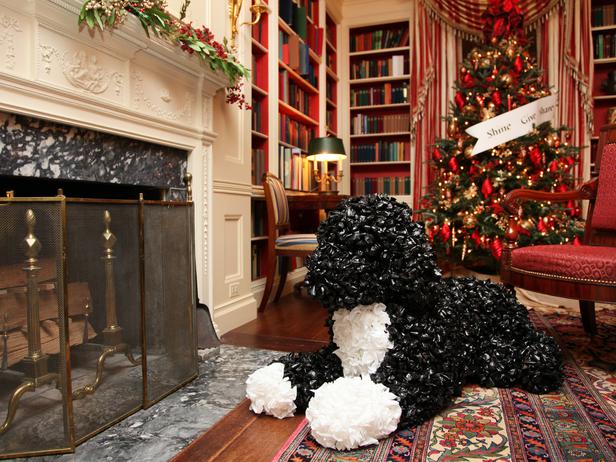 The Obama's love their dog Bo, who joined their family shortly after they moved into the White House.  Their Christmas decor for 2012 includes not just one but SIX hand-made decorative replicas of Bo! If you were to be so lucky as to go for a stroll through the White House this Christmas, you'd never know where Bo would turn up.  Incorporating Bo into their Christmas decor shows the Obama's love their their furry family member, and their sense of whimsy and humor.  This version of Bo, shown above,  is crafted from plastic pom-poms!
The intimate family dining room at the White House where just the family gathers. The Obamas have been criticized by the opposing party this year for putting up too many Christmas trees, however, there are only a few more than the Bush's typically had when they were in the White House.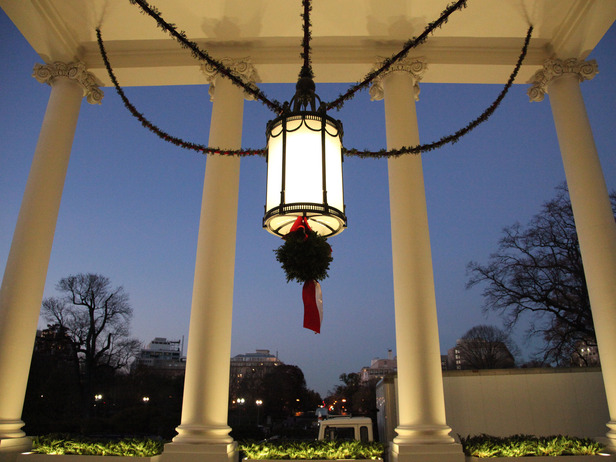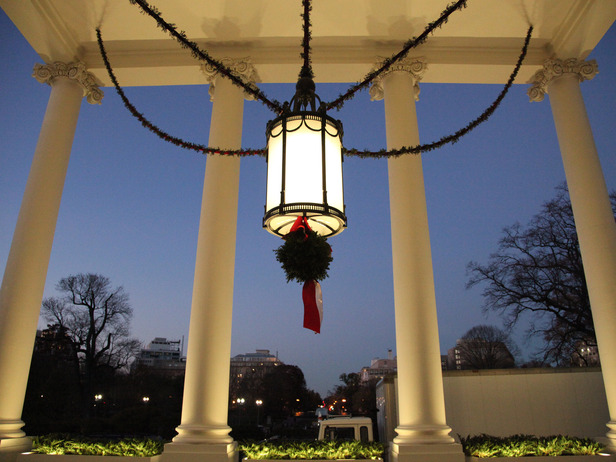 The festive front entry way decorated for Christmas with a Victorian Kissing Ball made from evergreen sprigs; a pretty red ribbon dangles from the bottom. Very festive, very romantic!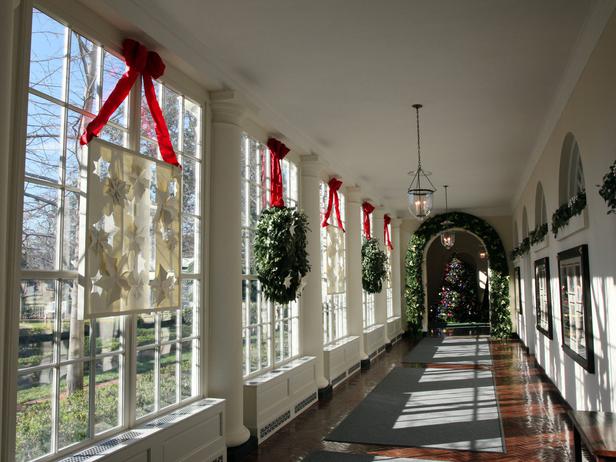 Christmas wreaths are suspended on red ribbons in the windows of this beautiful sun lit corridor which the president walks through several times each day. Classic, elegant Christmas  window decorations.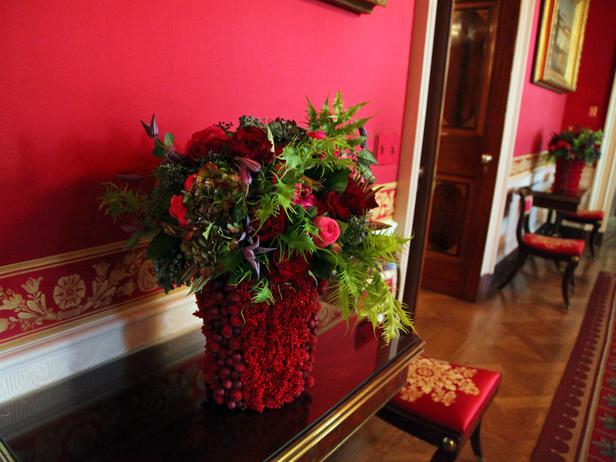 A "cranberry urn" on a console table is part of the Christmas decor in a room at the  White House.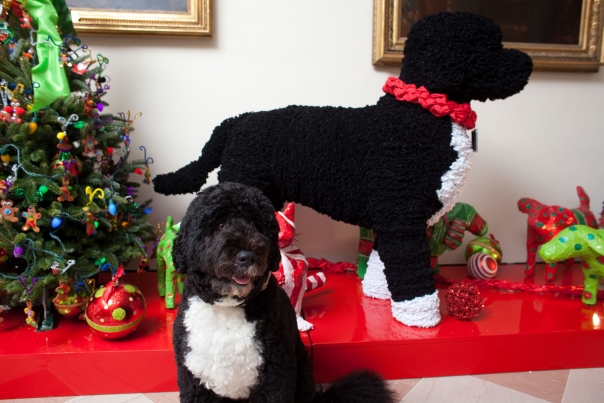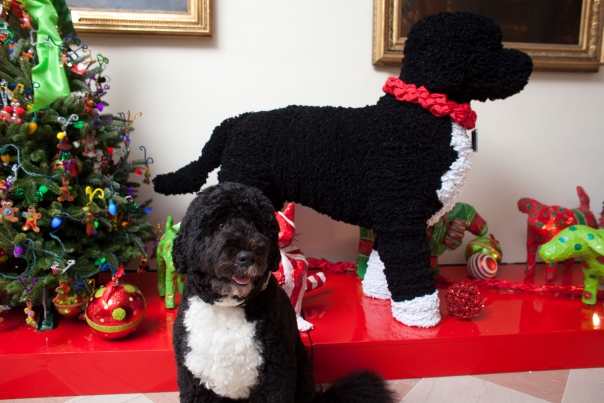 Bo sits in front of some Christmas table decorations at the White House, including one of six eco-friendly replica's of him, made from re-purposed materials.  He's one good looking dog!
Bo wanders through the White House, decorated for Christmas,
& makes a Final Inspection of the Christmas Tree – Watch!:
Get a Look at the White House Christmas Decorations
Inside the White House Christmas Party: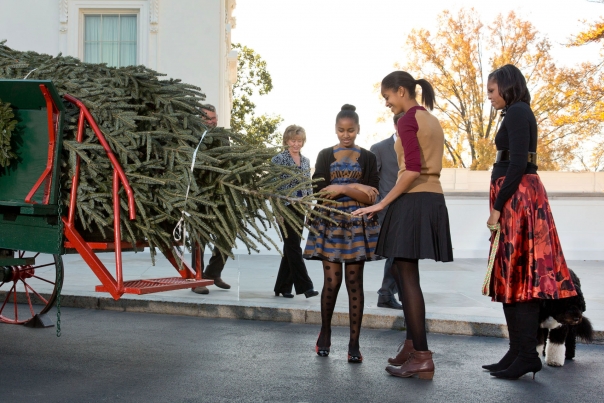 The Christmas fun begins!  Michelle, Bo and the girls come out to inspect the main Christmas tree for the White House when it is delivered by horse drawn carriage, a White House Christmas tradition.
Image from the 2012 White House Christmas Card –
Bo in the Snow!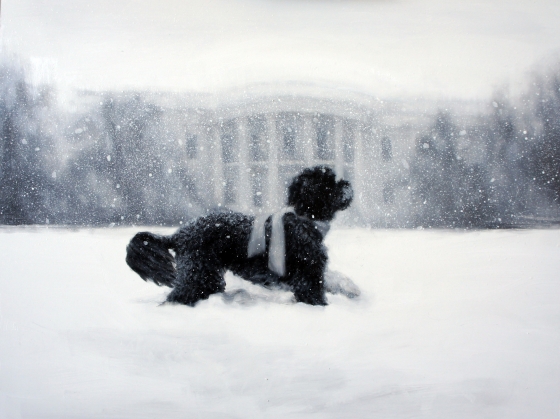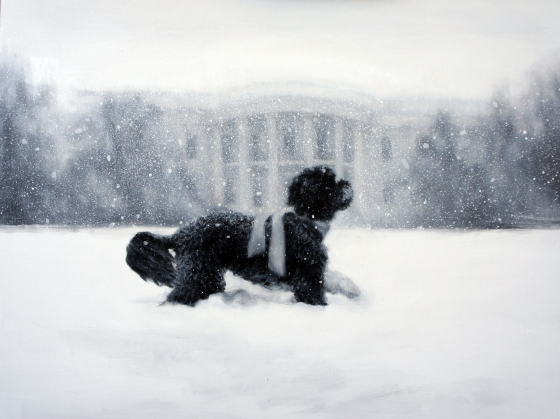 Bo in the Snow! This is the image from the White House Christmas Card for 2012!
Its Bo, frolicking in the snow on the White House grounds. Love it!