Decorated Christmas Trees 2012
We've made our top picks of Decorated Christmas Trees for 2012 from Southern Living Magazine.
Above, a table top Christmas tree decorated in lime green and brushed gold – a very calming color combination.
Southern Living Magazine says, "The trick to keeping this graphic look punchy, not ho-hum, is choosing the right shade of green. This crisp apple hue pops perfectly—anything darker or lighter would fade into the tree. To keep the holiday look fresh and bright, all-white ornaments were chosen for their modern feel and bold contrast. A playful paper lantern tops the tree, with trailing garland and ribbons.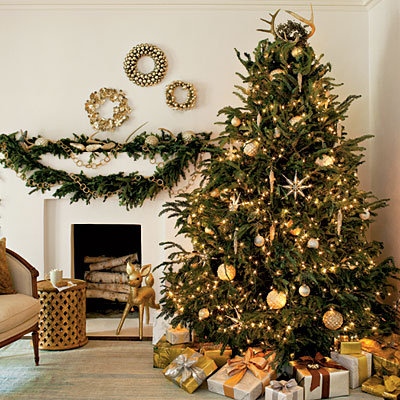 Southern Living Magazine describes the theme of this tree, above, as "Silver and Gold", but it is the gold that predominently comes across. "Basically neutral but with a little bling. Glittered ornaments and mercury glass balls lend a glimmering, glamorous feeling… Place packages around the outside of the tree to make it look larger". ~ Southern Living Magazine
Below, set in a beatiful white urn, a white Christmas tree is decorated in tones of turquoise blue and sea foam green. This one gets our vote as the best of the Decorated Christmas Trees SouthernLiving has to offer for 2012. What's your favorite? Let us know with a comment.
Also See Decorated Christmas Trees for 2012 from Better Homes and Gardens
~ About ChristmasDecorated.com: I make my living from home, blogging about something I love (Christmas Decorating!) with this blog. You can do this too. Sign up for a free e-course to learn how to earn a living with your own blog - Go to WorkAtHomeDivas.com.