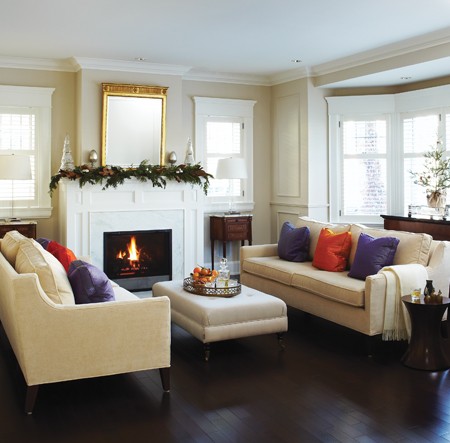 This living room, decorated for Christmas, is a beautiful example of simple Christmas decor. It is classic simplicity for those who prefer to keep things understated.
From Canadian House and Home, an understated living room is given a shot of punch with bright purple and orange toss cushions. The jewel tones are reiterated in the orange holiday ornaments on the ottoman to give a burst of cheer to the neutral palette.
A small and simple table top tree sits in front of the window, while the mantle is adorned, but with classic simplicity – a simple evergreen garland is swagged over the mantle, free of a lot of frou-frou, and a small silver-white ornamental Christmas tree stands on each end of the mantle top.
~ About ChristmasDecorated.com: I make my living from home, blogging about something I love (Christmas Decorating!) with this blog. You can do this too. Sign up for a free e-course to learn how to earn a living with your own blog - Go to WorkAtHomeDivas.com.