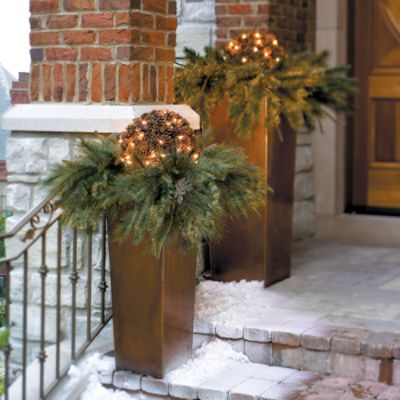 We LOVE these ball displays in planters for Outside Christmas Decorations. From GrandinRoad, these prelit pinecone balls in planters make stunning outside Christmas Decorations.  A wire frame fits neatly in the planters, allowing the greenery to flow over the rim. The lighted pinecone ball is lit with with 50 bright-shining clear Christmas lights. The arrangement is presented in contemporary Column Planters Planters. Within the planters are inserts that serve to fill up the inside of the planter, thereby reducing the amount of greeney required.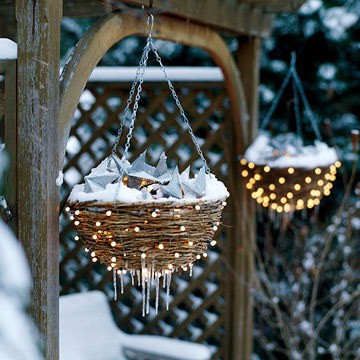 A clever and creative idea for outside Christmas Decorations, clear lights are added to outdoor hanging baskets and Christmas ornaments (silver glitter stars in this case) are placed inside the baskets.  Glass Christmas balls would work equally well inside these baskets. Yet another great idea for outdoor Christmas Decorations.  
~ About ChristmasDecorated.com: I make my living from home, blogging about something I love (Christmas Decorating!) with this blog. You can do this too. Sign up for a free e-course to learn how to earn a living with your own blog - Go to WorkAtHomeDivas.com.