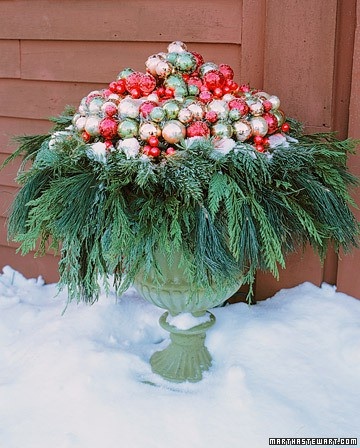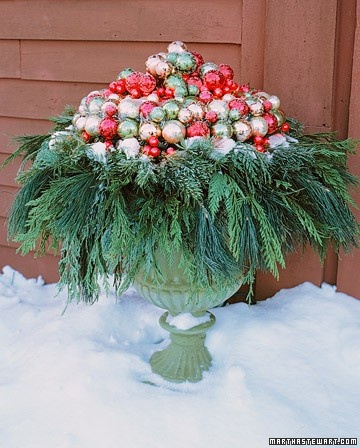 From Martha Stewart,  here's a fantabulous idea for your outdoor Christmas urns if you're looking to do something new this year.
An outdoor urn is filled with evergreen branches (juniper, cedar, pine, fir, etc) – make sure the branches hang generously over the edge of the planter for that lush abundant look.   Then colored glass balls are stacked into a gentle cone shape in the center of the urn.
Again, to rock this look, its all about abundance, so you're going to need a lot of glass ball ornaments!  When you fall short of the abundant look, your designs can end up looking a little anemic (aka "cheesy"!).
The trick here is that you're going to need to glue the balls in place, otherwise there are simply not going to stay put. Don't be daring and try it – a good gust of wind will send those babies flying, evening if you think you've managed to stack them securely.
Use a hot glue gun and glue as you go, one ball at a time. Don't use a lot of glue though – a little dab will do. If you apply too much hot glue to delicate glass balls, they do run the risk of shattering or cracking.
~ About ChristmasDecorated.com: I make my living from home, blogging about something I love (Christmas Decorating!) with this blog. You can do this too. Sign up for a free e-course to learn how to earn a living with your own blog - Go to WorkAtHomeDivas.com.