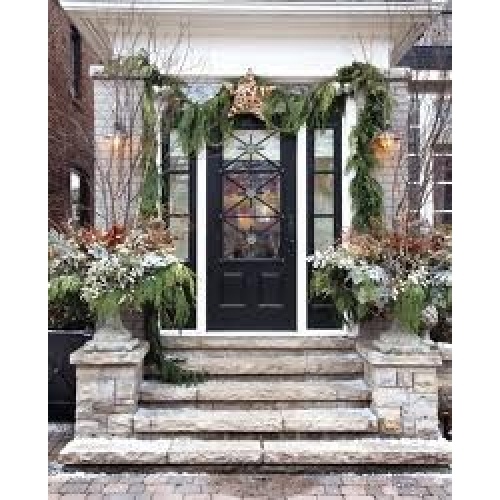 There is nothing more welcome than the front entrance (exterior) of a house festively decked up for the Holiday season.  It may be cold outside, but it makes a home look warm and cozy as guests arrive, and gains the admiration of passersby.
Here a really abundant pine garland is swagged around the door for starters. And, by that way, that's really key – when using a garland to adorn your front door, you don't want it to look anemic, so use a really full, lush garland to get that abundant look.
Next, its all about the urns.  They may hold geraniums or petunias in the summer, but when the weather turns nippy, you want to get those babies filled with festive holiday decor. Again, make them FULL, and lush – remember, think ABUNDANT for the best visual effects. And to really make the display striking, you need height – that's where the tall branches rising up from the center of the urns come into play, really capturing the essence of nature and spirit of the season at the same time.
~ About ChristmasDecorated.com: I make my living from home, blogging about something I love (Christmas Decorating!) with this blog. You can do this too. Sign up for a free e-course to learn how to earn a living with your own blog - Go to WorkAtHomeDivas.com.