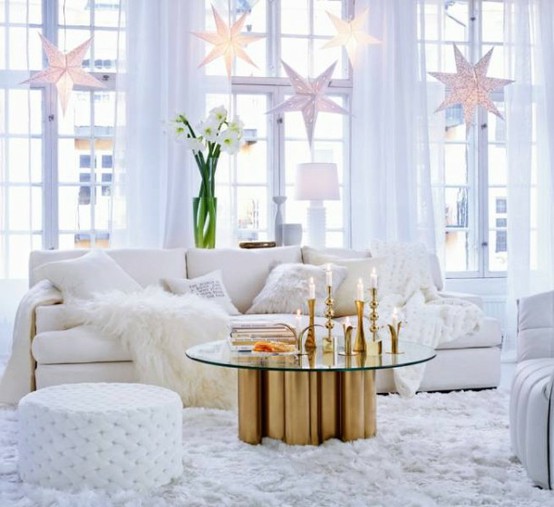 Can we say STUNNING?!  This photo quite literally took my breath away. A modern Vibe mixes with a throwback to the glam of 1920's Hollywood.  Designed in a monochromatic all-white palette with a pop of gold accents on the cocktail table in the center of the space, the mood created for this room is one of glamor, relaxation and luxury. Slightly glittering white stars, lit from the inside, are suspended from the ceiling in front of the window at varying lengths to decorate the room for Christmas in a way that compliments the room to a T.
When decorating your home for the holidays, don't forget the opportunity you have to suspend beautiful decorations from the ceiling and to highlight your windows.  The right decorations handing from the ceiling can create an amazing visual statement.  Like the idea? Check out this video to see how a professional interior designer decorated her own home for Christmas with large, glittering, gorgeous snowflakes suspended from her ceiling. Amazing!
~ About ChristmasDecorated.com: I make my living from home, blogging about something I love (Christmas Decorating!) with this blog. You can do this too. Sign up for a free e-course to learn how to earn a living with your own blog - Go to WorkAtHomeDivas.com.