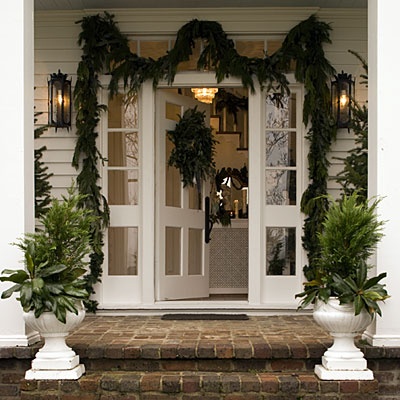 I have this thing for a really beautifully decorated Christmas Front door. I love it when people turn their front door into a beautiful visual display at Christmas. Its so inviting and it leads you to wonder what beautiful surroundings await on the otherside of the door….  If you need some ideas for your Christmas front door, feast your eyes on these photos…. and there will be more to come in future posts, bookmark us and check back each day for more Christmas Front door ideas and  a lot of other Christmas decorating ideas…
 Stacked evergreen wreaths: This door is decorated for Christmas with not one, but two evergreen wreaths positioned one right above the other for a very abundant look. Matching evergreen garland draped above and around the door enhances the look of abundance. Classic simplicity at play here, the wreaths and garland are decorated only with pinecones for a very natural appearance. Note the collection of pinecone clusters on the garland right above the door. A glistening gold bow tops off the upper wreath on this stunning Christmas front door.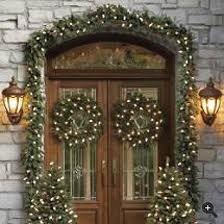 ~ About ChristmasDecorated.com: I make my living from home, blogging about something I love (Christmas Decorating!) with this blog. You can do this too. Sign up for a free e-course to learn how to earn a living with your own blog - Go to WorkAtHomeDivas.com.