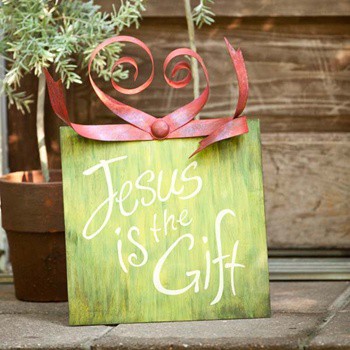 Christmas Decor in Words… a wonderful Christmas decor idea. And these are the most important words of all.
This plaque from Dayspring, fashioned and stylized to look like a Christmas gift, bears the most important message of all at the Christmas season, and an important reminder: "Jesus is the Gift".
May we all remember this as we get caught up in all the festivities and activities of the Christmas season.
What a wonderful idea to incorporate into your Christmas decor.
~ About ChristmasDecorated.com: I make my living from home, blogging about something I love (Christmas Decorating!) with this blog. You can do this too. Sign up for a free e-course to learn how to earn a living with your own blog - Go to WorkAtHomeDivas.com.