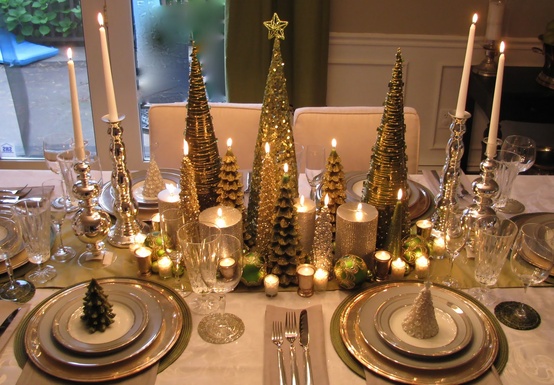 The magic of Christmas is captured perfectly with this Christmas Centerpiece and table setting. Photo: Conspicuous Style.
Glittering cone-shaped Christmas trees, sparkling Christmas tree candles, glistening silver pillar candles and assortment of votive candles in holders are gathered together in a large group down the center of the table where they sparkle in the glow of candlelight.
Gleaming silver candle holders housing white taper candles are placed at either end of the centerpiece arrangement, and green Christmas ball ornaments are nestled in among the candles for extra visual interest.
The entire presentation is placed on an olive green table runner, which runs the length of the rectangular table and matches the round, olive green place mats.
At each place setting, gray, white and gold china is placed upon a gold charger plate. Small Christmas tree-shaped candles sit atop each place setting and double as a take home favor for guests.
This one makes the list of Editor's Picks for so wonderfully capturing the mood and magic of Christmas.
~ About ChristmasDecorated.com: I make my living from home, blogging about something I love (Christmas Decorating!) with this blog. You can do this too. Sign up for a free e-course to learn how to earn a living with your own blog - Go to WorkAtHomeDivas.com.