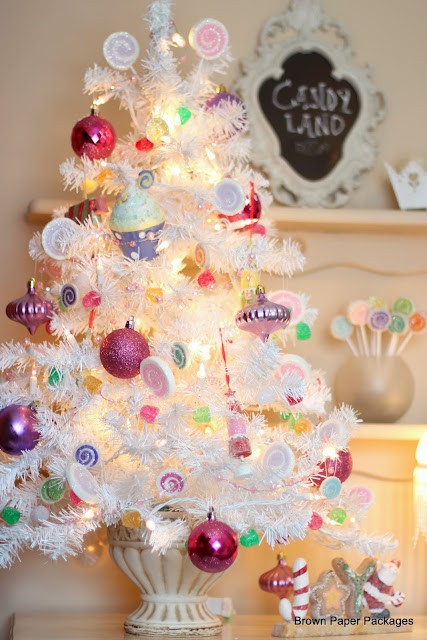 From Brown Paper Packages
This sweet little white table top Christmas tree is decorated in a candy theme motif and illuminated with clear white lights. A mix of pastel colors always look so pretty on a white tree. If you look closely, the decorations are in the shapes of candies. Very, very sweet!  Using a decorative white urn for the base of the Christmas tree is an elegant approach – so much lovelier than the typical metal Christmas tree stand. This white table top Christmas tree is by Brown Paper Packages and was created for a little girl's bedroom. What little girl wouldn't LOVE this?
~ About ChristmasDecorated.com: I make my living from home, blogging about something I love (Christmas Decorating!) with this blog. You can do this too. Sign up for a free e-course to learn how to earn a living with your own blog - Go to WorkAtHomeDivas.com.